The G-frame is an interaction tool to control large scale projections with hand gestures. Initially realized for the Connecting Cities Network, two g-frames had been remotely connected to a collaborative sketching experiences. Connected locations were street LED Panels in Sao Paulo / Brazil and the Media Architecture Biennale in Århus / Denmark. Users on both sides of the world worked on improvised drawings by waving their hands in the frame. To be true, this very first prototype was far away from perfect. The stroke and brush styles haven´t been designed to a satisfying extend and the internet connection was not sufficient enough to have realtime experience. From this first approach we went on to enhance the graphics, tweaked the sensor system and worked on the interaction concept.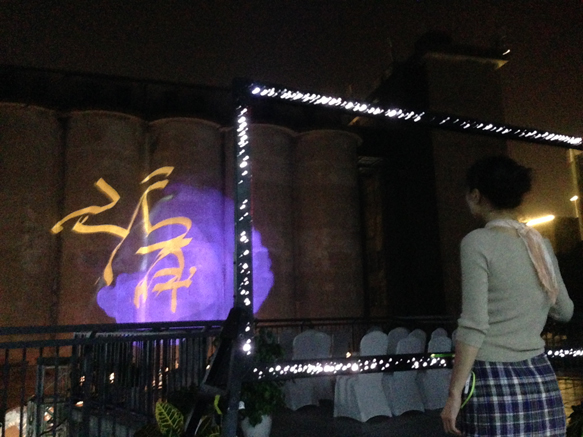 INTERACTIONS FOR PROJECTIONS
---
The concept of the G-frame is to have a grasp through interface that allows a clearly visible interaction area. In this case the frame itself glows and pulses to determine the interaction field. By grasping into the frame a reaction is triggered on the projected facade. The frame is capable to detect up to 12 interacting points, e.g. finger tips. The reactions to these "non-touch-events" can vary depending on the software concept. Currently we work with a playful and minimalistic approach of simply controlling a smoke fluid animation in realtime by just waiving in the frame. The fluids break and interfere on the boundaries of the projected facade. Is the projection seamlessly mapped to the architecture, the smoke overflows the corners of the building very realisticly.
For the commission at the Asian Arts Festival in Quanzhou we added the sketching possibility back into the system. For the chinese audience we designed the stroke function as a calligraphic brush to refer on traditional chinese lettering. The signs had been drawn either with the waiving hand or with a little stick. The stick allows to create much more controlled and intricate drawings.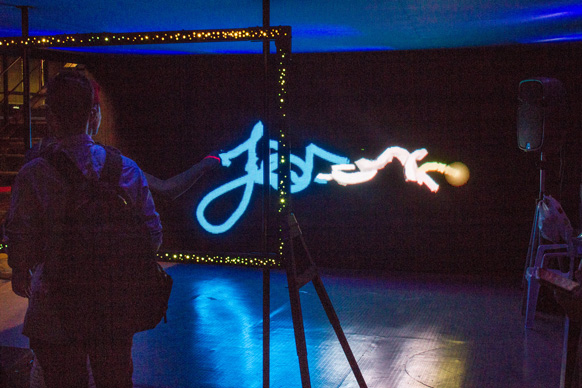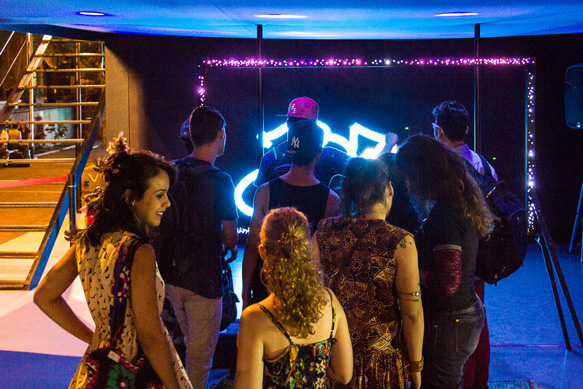 EXPLORING VARIATIONS
---
We also been commissioned to develop a opto-physical game for the UNESCO Year of Light 2015. For the closing event we used the G-frame as interaction tool for sending light rays into a virtual prism, similiar to the Pink Floyd sleeve design. The white light rays break in the prism and leave it in spectral colours. Because it´s all virtual, we enabled the prism to geometrically morph and change it´s refraction index from vacuum to crystal. So the broken light is always changing.
TEAM AND PARTNERS
Sebastian Piatza
Christian Zöllner
Robert Albert
Julian Adenauer
G-frame is realised in the frame of Connecting Cities Network initiated by Public Art Lab in cooperation with verve cultural and the Media Architecture Biennale