Around the world, part number three. It was 2012 and a lot of tripping to visit festivals, meet gorgeous people in america, south america and europe. Again a pleasure we are thankful about.
VALENCE
---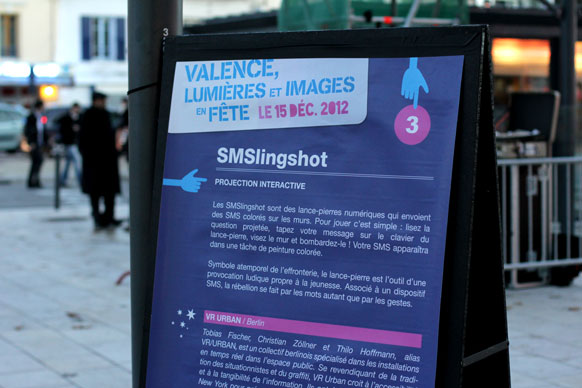 The last show for 2012. Again going south. We were looking forward to this show, because our friends from we come in piece were organizing the whole thing and we know them from last years Grenoble performance. We thought that everything is knee deep covered wtih snow, because it´s straight in front of the alps and it was mid december. But it was, beside a bit of rain, nearly springtime feeling in the streets and the people flooded through the city for the Fetes des Lumieres. We had our performance on a rambla like main street with a lot of people passing by and shooting their thoughts on the walls. Thanks to Kimi, Mathias, Thomas, the whole tech-crew and the volunteers for making this possible! See you next time!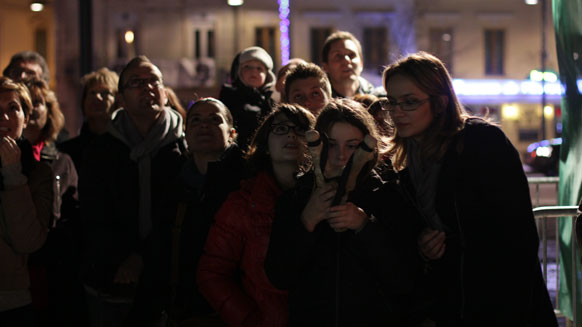 DRESDEN
---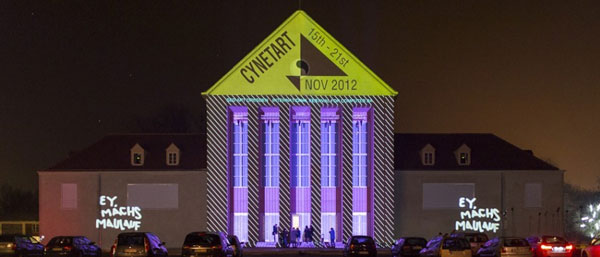 There had been two shows in Dresden the last weeks of November. One in the streets, right across the street from THE SPOT, the fashion store Christian designed years ago. That´s how things match sometimes. Thanks Ronnie for helping all the way! The other show was at the Big Opening of the Cynet Art festival. All too cold! Not to forget, Sebastian, won the artist in residence funding for his EYEsect project and got a very nice curator statement in the catalogue. Respect!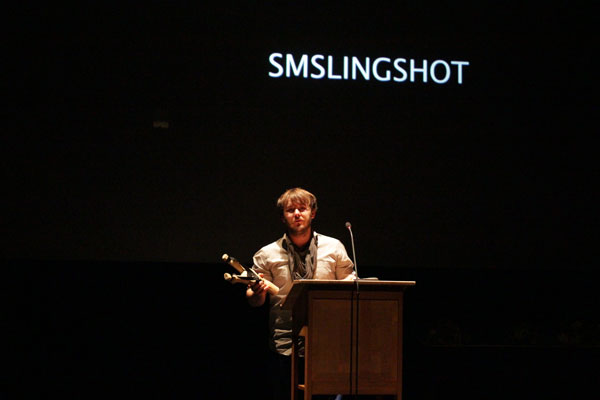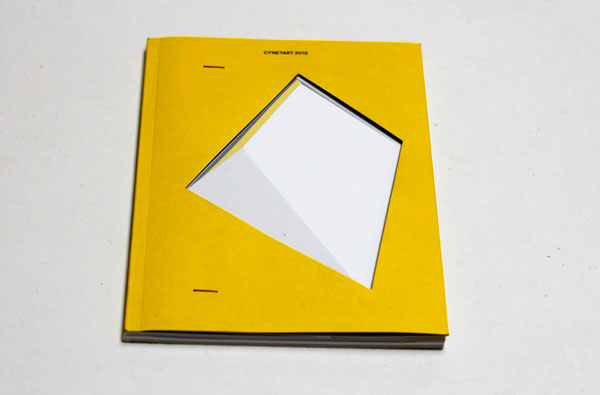 TORINO
---
What a messy trip. Rocking the show in Dresden, dismantling everything, jumping in the car, goig to berlin airport, flying to Italy via Paris, losing luggage on CDG, driving through rainy Torino, meeting wonderful people, all with three mobiles on the ear, got the luggage delayed, rocked the show, brought back to airport. Not talking about the delayed deliverance of the SMSlingshot that had to be put up in the exhibition space at the museo di naturali e scienze…. Whooowooo. By the way: we´ve been shortlisted for the Share Prize 2012. Thanks to the Jury, Bruce Sterling, Mirjam Struppek and Carlo Ratti. Thanks to Tone, Chiara and Simona!!!!! And not to forget: Congratulations to Stanza!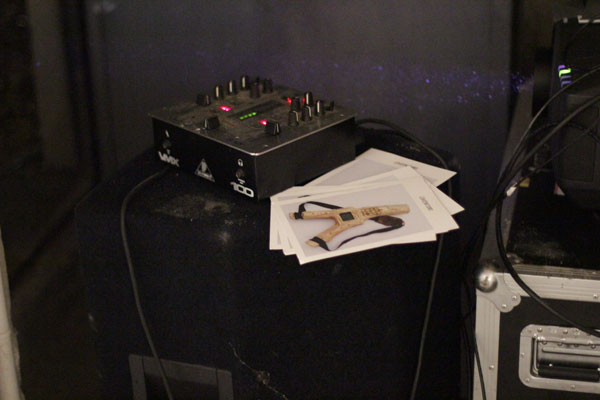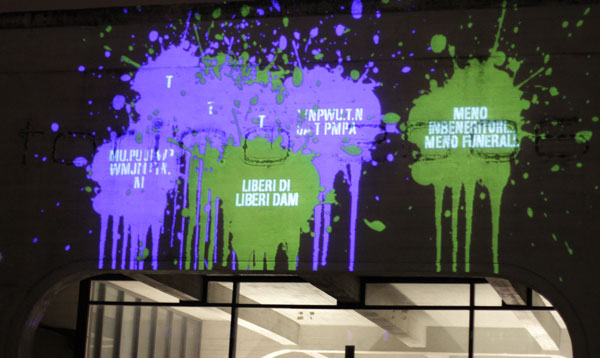 RIVA DEL GARDA
---
A little trip together with our extra team member Dominic to Lago di Garda and it´s rainy Blogfest. Thanks Stefano Mirti and Susanna Legrenzi! You´re Boss. We will see in the future more often. I´m sure!
CHARTRES
---
Again some short and little round up of our crusade to France. Never saw so many people at one of our performances. Must have been around 150 man and women constantly on site. And all been positive with their messages. No hatings, no beef, no stupidity. Thanks Emeric, Raoul and Pascaline for bringing us over! We will come back! Maybe with the Projektor Orkestor.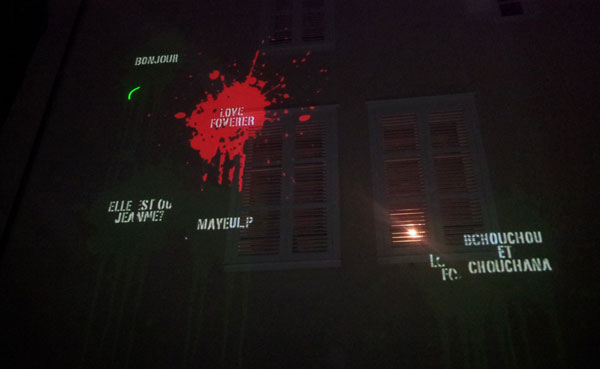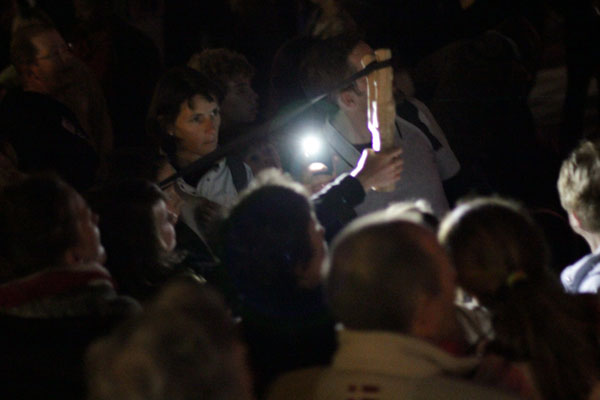 INGRAVID / FIGUERES
---
Here we go with a little feature video, made possible from the Goethe Institute Barcelona. The trip was nice, like always. We had a showcase during three nights at the cities rambla and been massively supported by the ingravid crew and first of all Xavi. Thanks for translating, man!  Just a little impression from this years ingravid festival.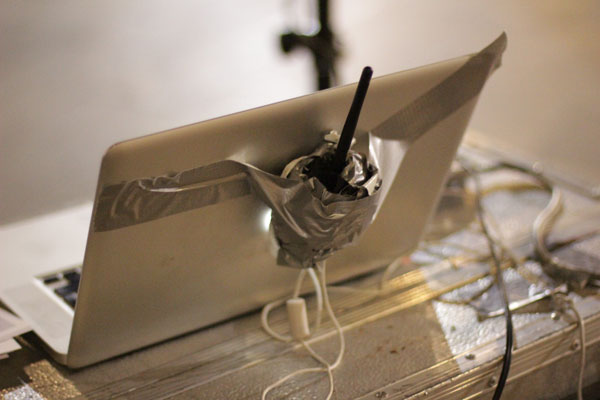 DIGITAL DERRY
---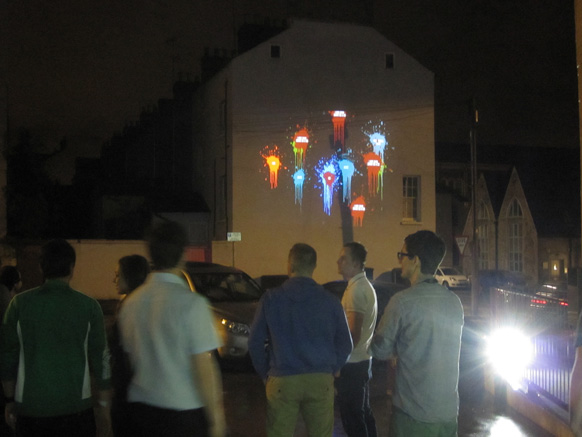 While one part of THE CONSTITUTE was in Dessau to project on the Bauhaus, the other part went to Ireland, in detail to Derry to showcase the SMSlingshot during the Digital Derry festival taking place in the Beginning of September. It has been scheduled two shows, but only one was realized in the end. A good reason to stroll around the festival and make friends with the other artists. Thanks for the good time, and finally meeting in person, to the blablalab crew! Go for it guys! You are amazing.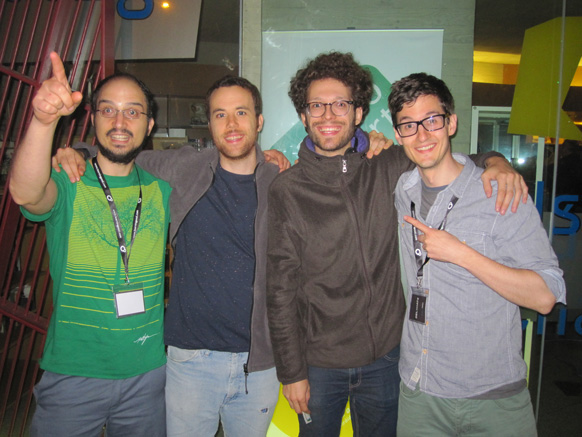 SOLSTICE / CLEVELAND
---
It´s always something special when entering a plane, knowing that the next stop is America. We´ve been invited to the solstice festival in Cleveland / Ohio. It took place at the Museum of Modern Art in Cleveland and is an annual event blowing up the spot in end of July. First time we made such a big projection on such a big building. What a night.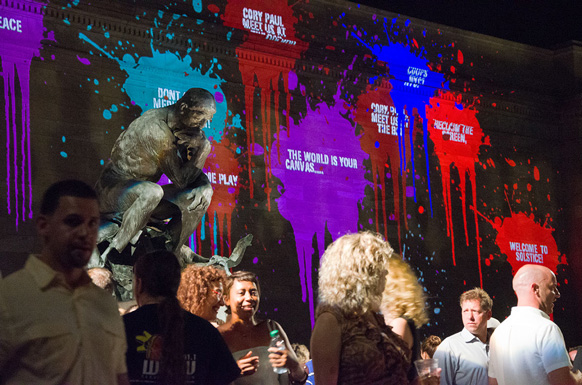 CROMAFEST / MEXICO CITY
---
Again what a beautiful trip and what amazing shows we had in Mexico City during the Cromafest weeks. We showcased two great evenings, one near parque espana in Condesa and one downtown in centro historico on calle regina. The DF people had massive fun shooting messages on the walls and commenting their urban surrounding. Never have been more kids to shows, never been more elder people around, never been accomodated in a more queer area. Thanks Viviana for the hangover, thanks Adrian for the driving, guiding, joking and for generally being around, thanks Cristina for taking care in advance, thanks lucia for keeping track of everything and thanks Isaac for the nice company. I guess we will come back next year, with next level developments and hopefully two DJ showcases.